PLEASE KEEP A SAFE DISTANCE OF 2 METRES - Floor Marking Tape (6" / 144mm x 33m)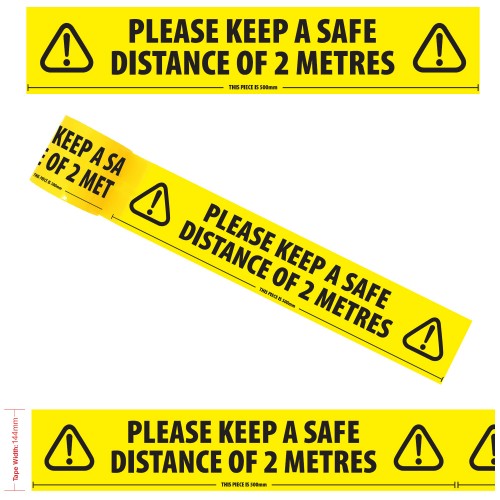 Dimensions: 144mm x 33m – 6 inch x 36 yards
Colour: Black Text printed 'Please Keep a Safe Distance of 2 Metres' on Yellow Tape
Features:
Laminated with clear tape to provide environmental protection and wear protection for floor marking.
Strong self-adhesive PVC tape.
Easily removed when required.
Contact Us for additional prints and custom tapes or orders over 100 rolls.
World wide shipping available.
Manufactured in the UK.
Potential Uses:
Floor marking.
Labelling or signage.
Marking out safe distancing spaces in places where social distancing needs to take place to keep people safe.
Adheres to the Governments recommended 2 metre social distance requirement.
Technical Specification: White strong PVC printed in yellow and black. Laminated with 30 micron transparent polypropylene for environmental protection. Coated one side with a transparent resin rubber adhesive. Recommended for internal use.

Key words: #socialDistancing #2metresApart #covid-19 #coronaViris #6FootDistancing #safeQueueing #covid19 #safeDistancing #CoronavirusOutbreak #medicalTape #socialDistancingTape
£47.25
6 or more £42.53
12 or more £40.16
24 or more £37.80
36 or more £35.44
72 or more £30.71
Tags: socialDistancing, covid19, coronavirus