Tectyl Multi Purpose Anti-Corrosive Protective Coating 506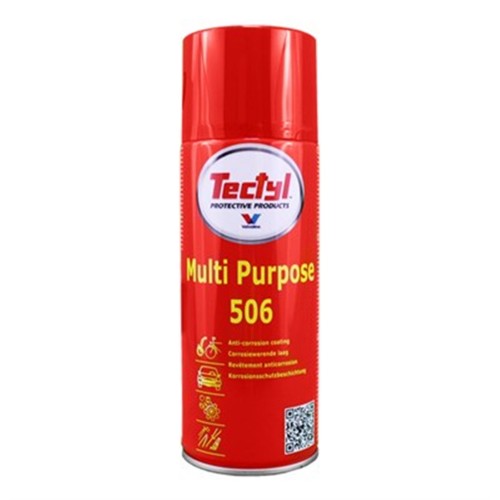 A versatile wax-based aerosol designed for rust prevention for automotive, industrial, marine, and domestic use. Provides long-term anti-corrosive protection via a water-displacing, translucent amber coloured wax coating.
TECTYL MULTIPURPOSE 506 cures to an amber coloured, waxy, semi-firm translucent film.
Surface Preparation
The maximum performance of TECTYL MULTIPURPOSE 506 can be achieved only when the metal surfaces to be protected are clean, dry and free of rust, oil and mill scale and a substrate temperature of 10-35 °C at the time of product application.
Application
TECTYL MULTIPURPOSE 506 gives a maximum performance when it is sprayed at an ambient and product temperature of 10-25 °C. Shake the can with TECTYL MULTIPURPOSE 506 well before use and spray at a distance of approximately 25 cm from the surface. As the TECTYL MULTIPURPOSE 506 is a fast drying product this can cause "pin-holing" when the product is applied too thick at once. Valvoline advises to spray one layer per pass, wait for 2 to 3 minutes and then spray another layer. Continue like this until the required film thickness has been obtained.
Benefits:
Anti-corrosion coating
Fast drying
Wax based, semi-firm film
Amber in colour
Multipurpose
Water displacing properties
Good penetration