IWC12 - Plug Code Wiring Tape / ID Labels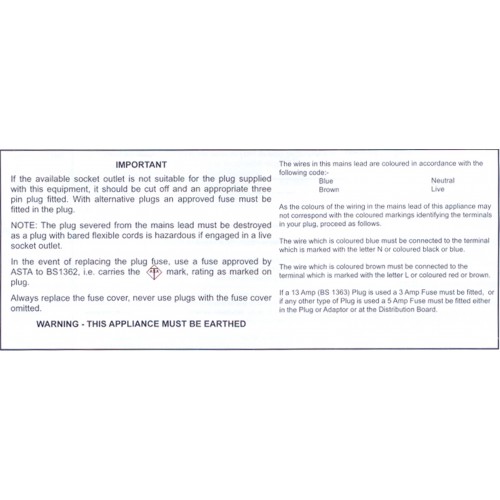 Size: 50mm x 33m
Labels per roll: 170
Text reads:
IMPORTANT
If the available socket outlet is not suitable for the plug supplied with this equipment, it should be cut off and an appropriate three pin plug fitted. With alternative plugs an approved fuse must be fitted in the plug,

NOTE: The plug severed from the mains lead must be destroyed as a plug with bared flexible cords is hazardous if engaged in a live socket outlet.

In the event of replacing the plug fuse use a fuse approved by ASTA to BS1362, i.e. carries the [ ] mark, rating as marked on plug.

Always replace the fuse cover, never use plugs with the fuse cover omitted.

WARNING - THIS APPLIANCE MUST BE EARTHED

The wires in this mains lead are coloured in accordance with the follcwing code:-

Blue Neutral
Brown Live
As the colours of wiring in the mains of this appliance may not correspond with the identifying the terminals in your plug. proceed as follows.

The wire which is coloured blue must be connected to the terminal which is marked with the letter N or coloured black or blue.

The wire which is coloured brown must be connected to the terminal which is marked with the letter L or coloured red or brown.

If a 13 Amp (BS 1363) Plug is used a 3 Amp Fuse must be fitted. or if any other type ot Plug is used a 5 Amp Fuse must be fitted either in the Plug or Adaptor or at the Distribution
Specification:
Base - Rigid PVC white film
Thickness: 0.060mm
Adhesion: 700g/24mm
Tensile strength: 11kg/24mm
Elongation: 40%
Temperature: -40°C to +70°C
Laminate - Transparent Polypropylene
Thickness: 0.050mm
Adhesion: 1050g/24mm
Tensile Strength: 11kg/24mm
Elongation: 100%
Recommended for indoor use. Please contact us for custom print/sizes.