V2 - Plug Code Wiring Tape / ID Labels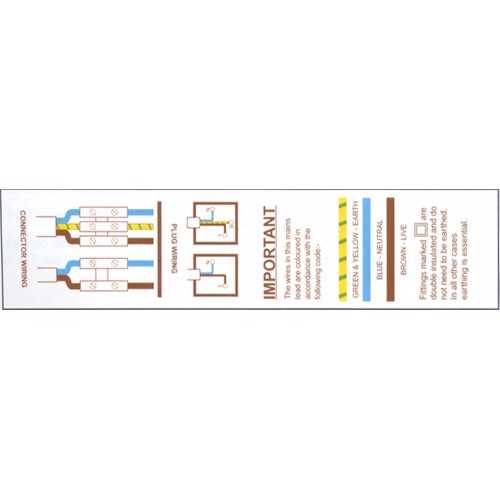 Size: 30mm x 33m
Labels per roll: 170
Text reads:
IMPORTANT
The wires in this mains lead are coloured in accordance with the following code:-

GREEN & YELLOW – EARTH

BLUE – NEUTRAL

BROWN – LIVE

Fittings marked [ ] are double insulated and do not need to be earthed. In all other cases earthing is essential.
Specification:
Base - Rigid PVC white film
Thickness: 0.060mm
Adhesion: 700g/24mm
Tensile strength: 11kg/24mm
Elongation: 40%
Temperature: -40°C to +70°C
Laminate - Transparent Polypropylene
Thickness: 0.050mm
Adhesion: 1050g/24mm
Tensile Strength: 11kg/24mm
Elongation: 100%
Recommended for indoor use. Please contact us for custom print/sizes.